All it took was
a sheet of white paper, a pencil and a budding artist to create great drawing of a number of great animal drawings.We used a number of books right off the shelves to direct us and the concept of circles, eggs and triangles being at the heart of drawing. We started with the mouse in Scott Sutton's book The group then moved on drawing dinosaurs and fish.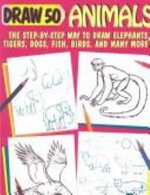 The group did a great elephant and a cat with a long tail. We finished the night with a shark and a sea monster with scales. Most of the books I used check out to the participants to do extra drawing at home. This is a real bonus to using the books off the shelf to teach the class. k
The Family Arts & Crafts group meets at the Wells Branch Community Library every Wednesday night at 6 pm taught by Dianne Koehler. The program lets us turn donated materials and imagination into great projects.

You may also want to take a look at the new Art & crafts database the library recently subscribed to for the patrons. check the library website for details.